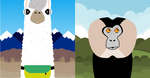 I was watching "Our Planet'' on Netflix the other day, while waiting for the rain to stop. Sir David Attenborough  is literally The only voice I need to hear when watching a cheetah chase down a gazelle. Whoever was in charge of the scenery for this documentary did a breathtaking job. I cannot remember the last time I saw such beautiful environments on the screen.
This got me thinking about some of my designs going forward. Why couldn't my humorous  wildlife t-shirts not depict some of my characters in their chosen environments? So I got to designing, and I created these two new shirts for your viewing pleasure. Alpaca Fanny and That's a Macaque, Jack are my first foray into this new scenery series I'm going to be working on indefinitely. I hope you like them, I hope you buy them, I hope you share them, and I hope they bring smiles to you and your friend's faces. Enjoy, and have a great rest of your week.
Alpaca Fanny comes in both adult t-shirts and youth t-shirt sizes. That's a Macaque, Jack also comes in both adult and youth shirt sizes. Oh, and I almost forgot, the alpaca design is also available as a tank top. That is all.