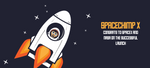 Amidst all the chaos that's been going on in the world, something exciting happened on Saturday. For the first time since 2011, SpaceX and NASA successfully launched a rocket from U.S. soil into outer space. 
To commemorate this historic event, I have created a new design for the shop. Space Chimp X is boldly going where, well, a lot of chimpanzees have gone before, actually. But what is important is that he doesn't know that, and ignorance is bliss! I mean, have you ever seen such a starstruck simian before? 
Space Chimp X is available in Adult, Youth, Toddler and Baby sizes, as well as posters! Check out the collection here!