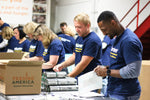 It has only been a couple of weeks since I have awoken this sleeping giant. As one of the many people affected by the Covid-19 layoffs, I was struggling with ways I could help out using my shop and unique designs. OMUNKY is and will always be my most cherished first business. But, it has taken a backseat in my life for the past few years. I will be the first to admit that was a terrible idea.
While in quarantine, I recently reached out to my loyal fans and followers, asking for support in allowing me to help those less fortunate than ourselves. Families who are so food insecure that they need the help of Feeding America.  
With your help, with their help, we have been able to put meals on the table for hundreds of families. 
Despite what has been going on in the past few months, the stress and struggles, I will always be able to look back on this year and say, thanks to people like you, we did that. 
Going forward, I am going to release new designs, and increase awareness on how we are helping this cause. Every little bit counts, and you are making that possible. Portions of sales on all omunky merchandise are going to Feeding America each month. Thank you so much for your support, and allowing me to do this. 
~Rick from omunky