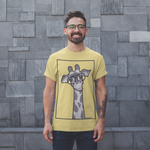 Yes, we've done giraffes before, and they were quite popular. In fact, I still have a few Spots & Shades in Adult, Infant and Toddler sizes if you are interested.
I had this hankering for a punny shirt, so I went with it. This is a new style of design I am trying out where i experimenting with amalgamating analogue and digital methods. I am very proud with how it came out, and cannot wait to design more. 
This is A Framed Giraffe, get it? A giraffe wearing frames IN a frame! I know! Genius! Enjoy it, it comes in multiple colors and is available in XS-2X sizes on a super soft 100% ringspun cotton tee. We never settle here at omunky, and neither should you.