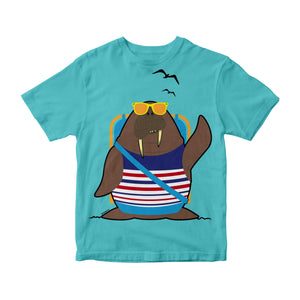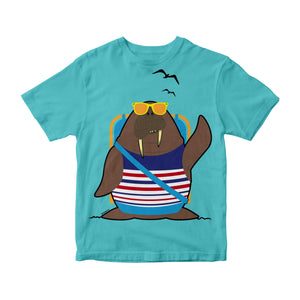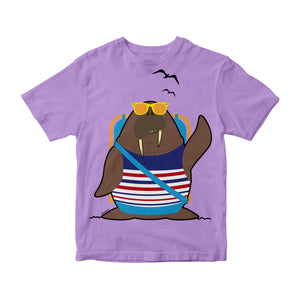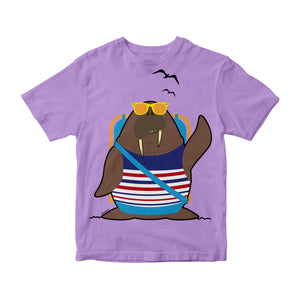 On Sale
Walrus at the Beach Kids (Infant & Toddler)
This walrus shirt will be the life of any kid's party.
Tides are nice, temperatures are good, wind...decent. This guy is heading to the beach! He's got a cooler, umbrella, bluetooth speaker, and plenty to talk about. Who brought the frisbee??
Walruses are fun, aren't they? I mean, to the untrained eye, it might look like they spend all their time huddled up on rocky shores catching some z's. But, there is an intricate social hierarchy there that can only be rivalled by your awkward family reunion bbqs. Walruses have weird uncles, strange distant cousins, and even over-protective mothers. navigating these social structures takes more than a fair share of blubber and tusks, believe that. 
This omunky design is printed on a super soft 100% cotton kids crewneck t-shirt and will soften with each wash.
Size guide Toddler
| | | | | | |
| --- | --- | --- | --- | --- | --- |
|   | 2T | 3T | 4T | 5/6T | 7T |
| Body Width (inches) | 12 | 13 | 14 | 15 | 16 |
| Full Body Length (inches) | 14 | 15 | 16 | 18.5 | 19.5 |
| Sleeve Length (inches) | 4 | 4.25 | 4.5 | 5 | 5.25 |
Size guide Infant
| | | | | |
| --- | --- | --- | --- | --- |
|   | 6m | 12m | 18m | 24m |
| Body Width (inches) | 9.75 | 10.25 | 10.75 | 11.25 |
| Full Body Length (inches) | 12.5 | 13 | 13.5 | 14 |
| Sleeve Length (inches) | 3.25 | 3.5 | 3.75 | 4 |